Directed By:
Nathan Chew
David Hartman
Sam Liu

Not Rated
Genre: Giant Monster Science Fiction TV Show/Cartoon
Format Used: Netflix DVD
Contains: Mild Violence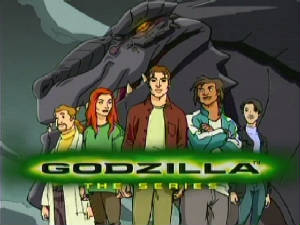 THE PLOT:
Nick and the rest of HEAT has a reunion, they reunite with the other survivors of an alien invasion that happened not too long ago.

But as soon as he arrives, they act strange. Fighting all the time and then splitting up. It seems that the two other survivors were infected by alien DNA and there is nothing left of them that is human. The two aliens plot world domination again, using mutations that Godzilla has defeated before and with the help of a brain washed HEAT member resurrects the orignal GODZILLA as a cyborg, a Mecha-Godzilla.

Can HEAT stop a second wave of alien invaders and when Godzilla changes sides, has all hope left?
ZEDD'S OPINION:
This is not the best way to introduce yourself to the new Godzilla series. There is more Godzilla series coming out, I hope this encludes the pilot. Anyone not famlur with the series will wonder what the hell is going on. So unless you started the series, I wouldn't advice, MONSTER WARS TRILOGY. But I am familur with the series and I give it...9 STARS

VOLTRON'S OPINION:
I thought the monster names were weak in this series. It was the same with the last GODZILLA series in the eighties. The monsters were THE BAT, THE WORM, THE BEE. I love the names in Japan and I wish the cartoon writers used more creative names. Even though this GODZILLA had the breath weapon, he seemed alittle valunerable. How could aliens conquer the world with monsters that be killed by missiles? I give it....8 STARS

ON THE POSITIVE SIDE (+ HITS):
+ GODZILLA'S BREATH (The animated series has his breath weapon)
+ GOOD GODZILLA (Godzilla is a hero)
+ INTERESTING MONSTERS (Cool and strange mutations for GODZILLA to fight)
+ STORY (The DESTROY ALL MONSTERS plot works)
ON THE NEGATIVE SIDE (- MISSES):
- MIDDLE (This was in the middle of the series. Anyone who hasn't started the series will wonder what the hell is going on?)
- EASILY KILLED (How could aliens conquer the world with monsters that can be taken out by the army?)
- NO NAMES (The Japanes give each monster a name, not just THE BAT or THE BEE.)

AND FIANLLY....

- FAN BASED (If you don't like GIANT MONSTERS or CARTOONS, then this isn't for you.)